Windows & doors manufacturer
Industrial work area: 3 500 m2
Constans is one of the longest operating company in the window branch in our region – we product windows for over 20 years. The long-term experience let us offering the products of highest quality, modern and durable.
Thanks to the cooperation with manufacturers of high class materials (REHAU, GEALAN – profiles, WINKHAUS – hardware, ALUPROF, REYNAERS – aluminum systems) we are sure, that we offer You products for many, many years.
We are manufacturing the doors and windows of PVC and ALUMINIUM. Our company has the most modern in the region, three large production halls with industrial area as of 3500m2 and with computerized technological production lines (for both pvc and aluminum windows, doors).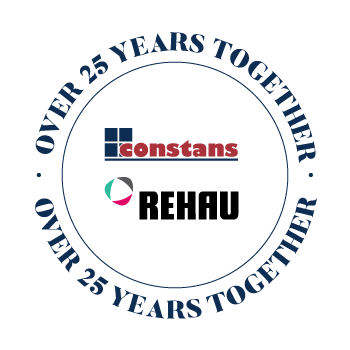 Over 25 years of experience
During such long-term operating in the windows business we can take pride in having a huge amount of regular customers satisfied with our products and services, while our windows and doors are installed in thousands of houses not only in Poland but also in Europe (Germany, Belgium, Netherlands, France, Luxembourg, Spain).
Products of highest quality, trusted suppliers
Many years of experience let us choose and work with the best, trusted suppliers manufacturing the materials of the highest quality (REHAU, GEALAN, WINKHAUS, ALUPROF, REYNAERS,OBST) in order to provide our clients with the products of high thermal and acoustic insulation.
Specialized personne
Our Team is composed of highly trained people experienced in the windows industry – they always offer a professional help.
Made to measure products
We can offer a wide range of products made to measure, with varied colors and shapes.
Wide range of products
We offer a wide range of products, depending on the customers' needs and means we can provide the product that meet all the customers' expectations.
Kompleksowa obsługa
Oferujemy pełną obsługę, od doradztwa technicznego na budowie, poprzez projektowanie, montaż po profesjonalny transport.
Movie – Company presentation